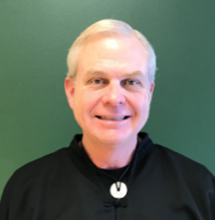 Chief Instructor Cris Stewart is a registered 4th Degree Black Belt in Kung Fu with the United Martial Arts Association of America. Silver Coin.
Chief Instructor Stewart was born and raised in Phoenix. He worked with his father for 20 years as a remodeling contractor. He began his martial arts training in 1982 with Shotokan Karate while in college and a few years later in Kenpo Karate. After winning a battle with stage 3 colon cancer and then switching careers from construction to a desk job as a website developer, he needed to make a fundamental change to break out of a declining health spiral. It was his wife Gerri that encouraged him to return to training, reminding him of his earlier positive experiences with martial arts. He found a home with Untied Kung FU and has been training here since 2015.
Chief Instructor Stewart began the CIT (Certified Instructor Training) program as a blue belt. Motivated by the idea that giving back through teaching others is a great way to continue to learn and grow, he quickly discovered he has a passion for helping others to succeed. Chief Instructor Stewart's earned his 1st degree black belt in Southern Shaolin Tiger & Crane, 2nd degree is in Northern Shaolin Long Fist, 3rd degree in Xing Yi, 4th degree in Bagua, and is currently working toward his 5th degree in Tai Chi.
In addition, he is a certified instructor in pistol, rifle, and shotgun through Zen Marksman and the NRA.