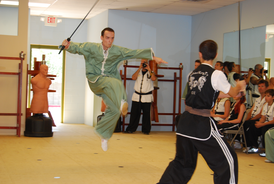 Head Instructor Hagofsky is currently a registered 4th Degree Black Belt in Kung Fu with the United Martial Arts Association of America. In addition to instructing the regular Kung Fu, Tai Chi, and Chi Gong classes, he is famous for his Little Tigers martial arts classes for kids., where he is blessed to be able to share his passion with the young students.
From a young age, Joshua Hagofsky showed interest in the martial arts. He spent much of his time trying to mimic moves he saw in movies and magazines. After seeing some promise in his son, Joshua's father enrolled him in Isshinryu Karate under Sensei Gregg Smith. In 2000 Joshua received his Shodan (1st Degree Black Belt), from Master William Duessel. In 2001 Joshua went off to college and took a hiatus from training.
After some motivation from his friends, Joshua decided to get back into martial arts. Wanting to do something different, he chose Kung Fu. In 2009, Joshua joined the United Kung Fu Academy.  A year later he graduated to 1st Degree Black Belt, and soon became an Assistant Instructor. The rest, as they say, is history!